Dr. Garrett is part of an elite designation among the world's refractive surgeons. He will work with you to determine which laser correction option is the best fit for your eyes.
Head over to our News & Media page for more videos on Dr. Garrett and the services we provide at Garrett Eye.
PRK
Photorefractive keratotomy, or PRK, is a type of laser eye surgery used to correct mild to moderate nearsightedness, farsightedness, and/or astigmatism.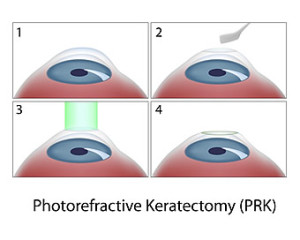 All laser vision correction surgeries work by reshaping the cornea, or clear front part of the eye, so that light traveling through it is properly focused onto the retina located in the back of the eye. There are a number of different surgical techniques used to reshape the cornea. During PRK, an eye surgeon uses a laser to reshape the cornea. This laser, which delivers a cool pulsing beam of ultraviolet light, is used on the surface of the cornea, not underneath a flap on the cornea, as in LASIK.
A contact lens will be placed on the cornea during your healing time. This contact lens will be removed within five to seven days of the procedure. Recovery is usually two to three weeks, during which the patient may have mild to marked discomfort and blurry vision. Most of the vision improvement is seen in the first month, but there is still gradual improvement over the year after the initial procedure. Results take longer to achieve with PRK than LASIK because it takes longer for the epithelium to be restored. Studies show that the results with PRK and LASIK are virtually the same.
Refractive Lens Exchange
Unlike LASIK which can only correct nearsightedness, farsightedness, or astigmatism, refractive lens exchange (RLE) can treat all three conditions plus Presbyopia (old age vision). Unlike LASIK, which concentrates on corneal abnormalities, Refractive lens exchange is designed to improve the condition of presbyopia by addressing the eye's problem lens. During this corrective technique, the eye's natural lens is removed and replaced allowing for permanent vision enhancement. The new lens implant, referred to as an intraocular lens (IOL), may be either the multi-focal ReSTOR IOL or the accommodating Crystalens IOL for great vision at all distances. Each of these choices have their own unique advantages, and Dr. Garrett will thoroughly evaluate your eye health and help you choose the intraoocular lens to give you the best vision result. Refractive Lens Exchange has helped countless men and women obtain clear vision up close, reducing and sometimes eliminating the need for reading glasses.
Advantages of RLE at the Garrett Eye
Candidates for the refractive lens exchange have a moderate or high degree of nearsightedness or farsightedness and are usually over the age of 45, though in some cases younger patients qualify. Done in Garrett Eye's private state licensed and certified Surgery Center for better sterility and safety as opposed to an unlicensed office surgery room
Quick recovery utilizing tiny incision phako technology pioneered by Dr. Garrett, who was the first doctor to use this technique in Upper Michigan and the entire state of Wisconsin
Uses Presbyopia- correcting IOLs to restore the kind of vision you enjoyed when you were younger with clear vision at far, intermediate, and near distances
Eliminates the need for cataract surgery in the future
Ideal for patients who cannot qualify for LASIK due to thin corneas, dry eyes, or very high far- or nearsightedness
As always, a thorough conversation of the alternatives, benefits, and risks of all procedures will be discussed with each patient.
RELACS-Refractive Laser Assisted Cataract Surgery
Laser-Assisted Cataract Surgery with the Alcon LenSx Laser system
Traditional cataract surgery has always involved the use of a physical blade to create several small incisions during the procedure. With ReLACS™, these incisions are now made with a laser. This technology allows Dr. Garrett to plan and perform cataract surgeries with laser precision. With this advanced technology, Dr. Garrett has more control and flexibility; plus, ReLACS™ features real-time diagnostic tools for an accurate visual of what's going on inside the eye during the procedure. When used in conjunction, ReLACS™ and one of the intraocular lenses offered at Garrett Eye may give patients even more visual freedom after cataract surgery, helping maintain clear vision for decades. At your cataract consultation, you will be educated on the traditional blade-based approach and the laser-assisted approach to cataract surgery so that the best decision can be made for your situation and goals.
We offer financing! To find out if you qualify, please visit our financing page or fill out an online application through Care Credit now.