What is a cataract?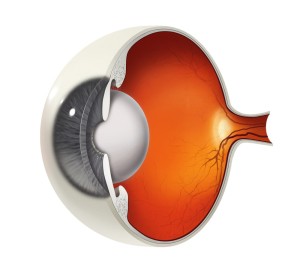 A cataract is a cloudiness of the natural lens of the eye that dims or blurs vision. Sometimes it causes glare or halos around lights at night, may reduce perception of colors and change the focus of the eye. If your sight becomes too poor to carry out your normal activities, the cloudy lens must be removed by surgery if there is to be any improvement in vision. With the latest advances in Intraocular lens (IOL) implants, vision can be restored. The important thing is to find the IOL that is best for your specific needs. Symfony, Symfony Toric, Crystalens, Alcon Toric, Alcon ReStor, and TruLign Toric lens implants are a few of the choices you have.
Dr. Garrett pioneered the use of small incision phacoemulsification cataract surgery, being the very first surgeon to perform this modern technique in all of Wisconsin and the Upper Peninsula. Dr Garrett also became the first ophthalmologist in Upper Michigan to perform LenSx laser-assisted cataract surgery and the first to offer the TruLign Toric lens implant in the state of Michigan in 2013.
Dr. Garrett has 35 years of experience has done nearly 40,000 cataract surgeries. Recognizing that the quality of your vision affects the quality of your life is why Dr. Garrett opened the first and only Freestanding Ambulatory Surgery Center in the Upper Peninsula dedicated to ophthalmology. He has consistently adopted the newest proven methods and cataract surgery techniques that provide added safety for his patients. One of the more recent technologies that Dr. Garrett makes use of is the Crystalens. He was the first local ophthalmologist to utilize the Crystalens beginning in the summer of 2007. In recognition of Dr. Garrett's leading use of Crystalens, Bausch and Lomb recently presented him with the National Center of Excellence Award.
Garrett Eye is the first in the U.P. to provide patients with laser-assisted cataract surgery! Watch our TV6 News Story:

Dr. Garrett will work with you to determine which IOL is best for you.
Multifocal IOL Implants (ReSTOR)
Alcon Toric and TruLign Toric Lens Implants
Accommodating IOL (Crystalens)
Symfony and Symfony Toric
Head over to our News & Media page for more videos on Dr. Garrett and the services we provide at Garrett Eye.
---
Every year, Dr. Garrett and his staff at Garrett Eye offer their services to the community to provide free cataract surgery to those in need who have no health insurance and are unable to afford cataract surgery. Dr. Garrett has been participating in the Mission Cataract Program for over 20 years. Click here for more on Dr. Garrett's medical mission trips!