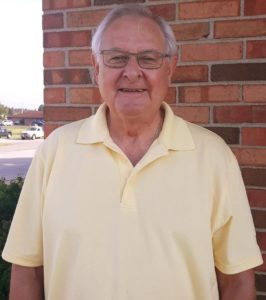 We welcomed Dr Paul Gayeff to the practice in October of 2016. Dr Gayeff is a long time resident of Escanaba where he and his wife Beverly, have raised their family. He has two living children and sadly lost a daughter after a battle with cancer several years ago. Dr Gayeff has adored his 7 grandchildren while teaching them how to be true "yoopers". Paul enjoys the great outdoors …walking, hunting and appreciating nature with his dog Nyna beside him.
Dr Gayeff brings to our team outstanding knowledge and skills in eye health exams, eyewear, contact lenses and low vision expertise. Paul is Michigan state certified in the field of Low- Vision which may be a covered state benefit for patients who have the qualifying vision acuity. Low vision is a person who sees less than 20/70. While most of Paul's working hours are at our Escanaba office; he does commute to our Iron Mountain facility to assist when needed.
Paul's experience of over 35 years working in vision clinics combines numerous years of practicing at several locations through out the U.P. Continuing his passion for eye care and compassion for helping patients and their eyesight; he took on the challenge of opening his own practice. After helping the community for a successful 35 years he decided then it was time to retire. Fortunately for us, retirement wasn't all Paul thought it would be, and he chose to continue his career with us.
Dr Gayeff graduated from Western Michigan University in 1965. He then proceeded for his Bachelors of Science at Indiana University, graduating in 1967. He then continued earning his Doctor of Optometry at the University of Indiana as a licensed optometrist in 1969.
It is always going to be a great day at the office when Paul is working; his fun loving personality is contagious and inviting to the staff and patients.