What is a Cataract?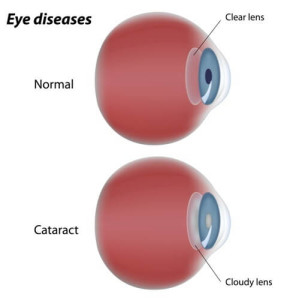 A cataract is a cloudiness of the natural lens of the eye that dims or blurs vision. Sometimes it causes glare or halos around lights at night, and may reduce perception of colors and change the focus of the eye. If your sight becomes too poor to carry out your normal activities, the cloudy lens must be removed by surgery if there is to be any improvement in vision. With the latest advances in Intraocular lens (IOL) implants, vision can be restored. The important thing is to find the IOL that is best for your specific needs. Alcon brand lenses, including Panoptix, Panoptic Toric, Vivity, and Toric are a few available implant choices.
Dr. Garrett pioneered the use of small incision phakoemulsification cataract surgery, being the very first surgeon to perform this modern technique in all of Wisconsin and the Upper Peninsula. Dr. Garrett has over 30 years of experience has done over 30,000 cataract surgeries. Recognizing that the quality of your vision affects the quality of your life is why Dr. Garrett opened the first and only Freestanding Ambulatory Surgery Center in the Upper Peninsula dedicated to ophthalmology. He has consistently adopted the newest proven methods and cataract surgery techniques that provide added safety for his patients.
Cataract Surgery
In cataract surgery, the cloudy lens is removed and replaced with a clear lens, called an intraocular lens (IOL), or implant. The primary goal of all cataract surgery is to allow the eye to regain its maximum potential for vision and reduce dependency on glasses. We offer many choices in lens implants. Dr. Garrett will work with you to determine which IOL is best for you.
Basic Cataract Surgery uses the monofocal IOL which has been used for 50 years and is the basic lens covered by Medicare and private insurances. With a monofocal lens, a patient can have both eyes set for distance vision, or one eye set for distance and the other set for near vision. Either way, most patients with standard cataract surgery will need reading glasses or bifocal/trifocal glasses after surgery.
Refractive Cataract Surgery uses advanced IOL's and techniques to provide the best uncorrected vision available after cataract surgery. There are three main types of IOL procedures we offer for our Refractive Cataract Surgery patients: Alcon's Toric, Panoptix, Panoptic Toric, and Vivity IOL's, as well as laser-assisted cataract surgery.
Haag-Streit Lenstar
The Haag-Streit Lenstar Biometer is one of the most advanced biometers available for the calculation of cataract replacement lenses. It provides a level of precision otherwise unavailable to assist in allowing the surgeon to get your best corrected vision. The Lenstar is standard for all of our patients who have opted to have surgery at our Iron Mountain Surgical Center.
ORA System with VerifEye by Alcon
The ORA system is a small device that attaches onto the microscope used during cataract surgery. It works by assessing your eye during surgery, much like a GPS tracks your progress on the road.  The ORA takes approximately 120 live readings of the eye, and with this data, our doctors can arrive at a better result. This customized procedure allows the doctor to choose the most accurate IOL power (strength) for your individual eye after the cataract has been removed. This is the best time to make this determination to offer the best result possible, regardless of which implant you have chosen. The ORA is highly recommended for patients that have had LASIK surgery in the past or are combining astigmatism correction with their cataract surgery.
Alcon Centurion System
The Alcon Centurion System is one of the premier surgical tools for the removal of cataracts.  Its benefits include less energy required to remove the cataract, specialized settings for low cell count and extra dense cataracts, and reduced patient complications.  The Alcon Centurion System is standard for all of our patients who have opted to have surgery at our Iron Mountain Surgical Center.
iStent Inject Trabecular Micro Bypass Stent
These are the world's smallest medical implant. iStent Inject is a stent array placed into the trabecular meshwork at the time of surgery. The two tiny stents reduce eye pressure by creating a permanent opening in the trabecular meshwork. This allows the fluid in the eye to move more easily. The procedure is indicated for adults with mild to moderate open- angle glaucoma currently treated with ocular hypotensive medication. It is 20,000 times smaller than the intraocular lens that the doctor inserts during cataract surgery.  This procedure is covered by health insurance and may reduce dependency on pressure lowering eye drops, saving the patient time and money.
---
Head over to our News & Media page for more videos on Dr. Garrett and the services we provide at Garrett Eye.