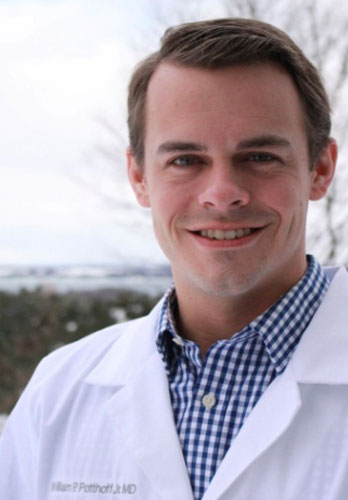 Iron Mountain, MI. – Garrett Eye is pleased to announce that ophthalmologist William Potthoff, JR, MD has joined the practice and will see patients in the Iron Mountain and Escanaba offices. Dr. Potthoff joins John M Garrett, M.D., in providing general ophthalmology care and cataract surgery. He has been with us now since January 2016 and has gained an outstanding reputation by his patients as wonderfully talented surgeon.
"I am excited to be adding an ophthalmologist to my practice," explained Dr. Garrett. Bill comes to us with stellar credentials, training and experience. He will really help to round out our team, allowing us to provide a full range of eye care to better meet our patient's individual needs."
Dr. William "Bill" Potthoff Jr. grew up in Traverse City. He attended the University of Notre Dame for his undergraduate education, where he made the Dean's List every semester and was a valedictorian candidate. His interest and passion for science continued to grow at Notre Dame, leading him to pursue a career in medicine. He attended the University of Michigan medical school, graduating at the top of his class. While in medical school, he met and married his wife Lydia, also a Michigan native.
He completed a one year internship at Oakwood Hospital in Dearborn, MI before heading to Cleveland, OH for a three year residency in ophthalmology at University Hospitals Case Western Medical Center. Bill decided to pursue a career in ophthalmology because of its balanced mix of surgery and longitudinal care of patients, along with his fascination with the structure and function of the eye.
While in Cleveland he received a world class surgical education, where the surgical volumes of his program perennially rank in the top 10% of US ophthalmology graduates. This is due in large part to his program's involvement at the Cleveland Veterans Affairs (VA) Medical Center, the third largest VA in the country. The opportunities at the VA allowed Bill to hone his skills in complex and refractive cataract surgery and also to learn cutting edge techniques, such as micro-invasive glaucoma surgery (MIGS) with the iStent. He enjoyed his time and training at the VA so much that he stayed on as an attending physician to help train future ophthalmologists in cataract surgery while his wife finished her commitment working as a pediatric nurse at the Cleveland Clinic before they moved back to Michigan.
While in residency, Bill also developed an interest in international ophthalmology and eye care in developing countries. He was able to spend three weeks in Hyderabad, India at one of India's premier eye hospitals where he not only learned new surgical techniques but was also immersed in the challenges of providing eye care in the developing world. In the future he hopes to be able to do more international work and help fight the global epidemic of cataract blindness.
His wide-ranging surgical training and breadth of interests in ophthalmology allow Bill to practice comprehensively, taking care of patients' entire ocular health. In addition, Bill prides himself on keeping up with the latest techniques and technologies in the ever-changing field of ophthalmology.
"I'm so impressed that all the technology of a big city is available right here in the UP! They have everything here, ORA, Alcon Centurions, Femtosecond Laser for bladeless cataract surgery and LASIK" stated Dr. Potthoff. "I look forward to working alongside Dr. Garrett continuing to bring the high level of care patients expect and deserve."
In addition to golf, Bill's hobbies include woodworking, reading, and working on cars. Bill and Lydia welcomed Penelope, their first child, into the world in August of 2015 and are loving parenthood.
Dr. Potthoff is now accepting new patients in both the Iron Mountain and Escanaba offices. To schedule an appointment with Dr. Potthoff, please call 1-800-428-8149.
Visit Dr. Potthoff's Website!