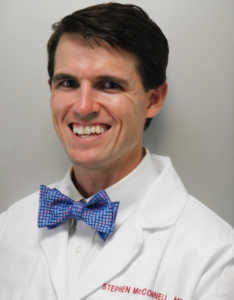 Iron Mountain, MI. – Garrett Eye is pleased to announce that ophthalmologist, Stephen McConnell, MD, has joined the practice and will see patients in the Iron Mountain and Escanaba offices. Dr. McConnell joins John M. Garrett, MD, in providing general ophthalmology care and cataract surgery.
He is a comprehensive ophthalmic surgeon who treats a wide spectrum of eye conditions. Dr. McConnell has a special interest in oculoplastic eye surgery, including blepharoplasty, as well as cataract surgery. He takes pride in placing his patients' interests above all else.
Dr. McConnell is a native to Georgia. He received his undergraduate degree from the University of Georgia and completed his medical training at Mercer University –Savannah. After completion of ophthalmology residency training at Temple University Hospital in Philadelphia, Dr. McConnell returned to Georgia to join Seaside Ophthalmology.
In addition to a year of scientific research at the Medical College of Georgia, he has participated in medical missions in Honduras and Cambodia.
His extracurricular activities are truly impressive. In addition to running numerous marathons, Dr. McConnell has completed two Ironman triathlons. He is married to Dr. Whitney McConnell, a surgical podiatrist. They are blessed with a son, Stephen Michael, and a daughter, Vivian.
Dr. McConnell is now accepting new patients in both Iron Mountain and Escanaba offices. To schedule an appointment with Dr. McConnell, please call 1-800-428-8149.